JULY 12th & 13th, 2023
Pier 36 | NYC

FREE REGISTRATION FOR BRANDS & RETAILERS
We're giving qualifying brands & retailers complimentary passes to come learn, collaborate and create what's next at The Lead Innovation Summit.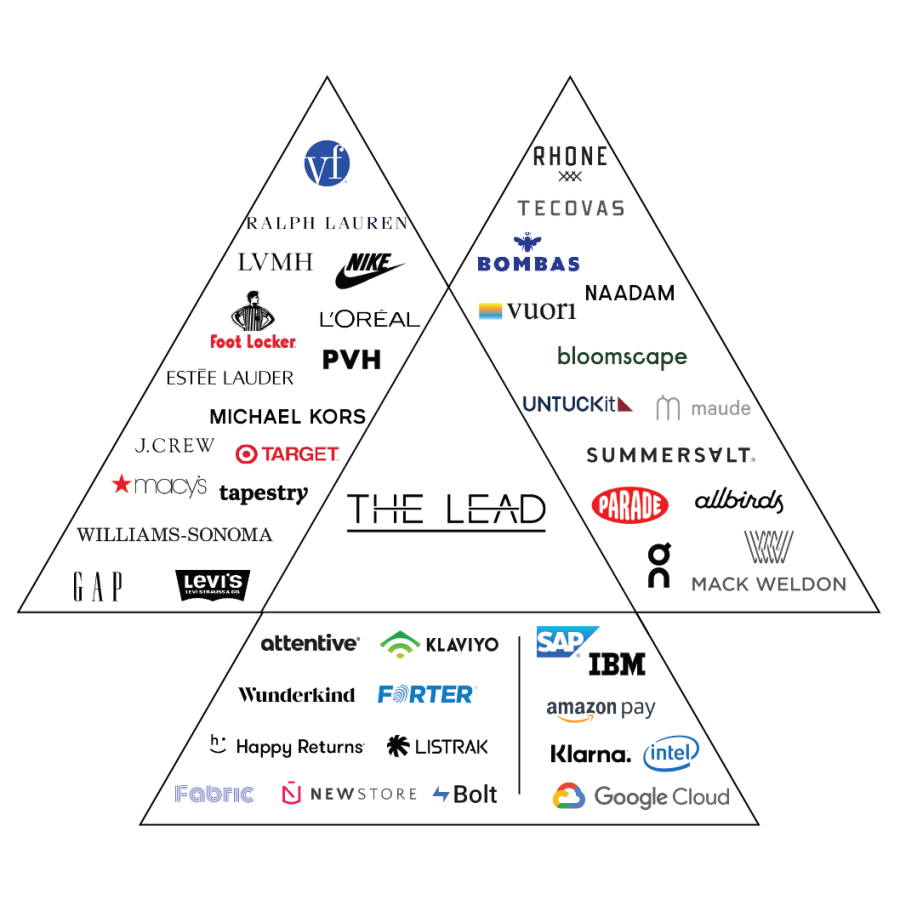 WHERE THE FASHION, RETAIL, & CONSUMER INDUSTRY DISCOVERS WHAT'S NEXT.
The Lead Innovation Summit is where 2,000+ people from the fashion, retail & consumer innovation community converge to learn from and connect with the brands, retailers, digital natives, & tech enablers defining tomorrow.
It's an immersive experience covering innovation across the value chain. This two-day festival features more than 100 stand-out speakers across three stages taking a deep look at the future of the industry. Meanwhile, all things transformation come together in The Innovation Village — experience the future of the industry – from next-generation digital brands to next-generation technology, be the first to discover what's to come.
Innovation Village
140 + Speakers
Vision Talks
V.I.P. Yacht Party
2,000+ Attendees
Ones-to-Watch
Pop-Ups
30+ Content Sessions
The entire fashion, retail & consumer innovation community comes together at The Innovation Summit each year. 1,700+ people from challenger D2C brands, transformative incumbent brands, modern retailers, tech start-ups, enterprise technology companies, media outlets, investment firms, and more come to challenge, discover, observe, learn, see, connect, collaborate, and dare to know what's next.
"The Lead brings together influential brands, next-generation technology companies, and the people who work in those worlds."
- VOGUE
"The Lead events are a tremendous opportunity to think about your business strategically and learn from some of the brightest minds across various industries."
"The Lead will help retailers discover the best strategies for their businesses."
- Forbes
"The Lead always unites the most forward thinking leaders ready to collaborate and help push each other forward."
The Lead Innovation Summit agenda is designed to challenge your assumptions, enable your competitive advantage, open a window into what's next, surface trends you may have missed, and amplify the voices of the industry's most forward thinkers. Get a full dose of what's next from the people creating it.
OPERATING BRANDS IN THIS NEW WORLD
 Incumbent Brands Building a D2C Business Model Retail's Private Brand Experiment: Responding to Wholesale Brands Going Direct 
KEEPING UP WITH THE CONSUMER
Find Your Brand's Soul to Recapture Cultural Relevance 3D Avatars, Virtual Fit, & More: Next-Gen Immersive Shopping Diversity, Equity, Inclusion: Meeting Gen Z's Evolving Expectations
DATA IS ACTUALLY EVERYWHERE
The Power & Limitations of AI Smart Stores & Predictable Supply Chains Mining Data to Build Brands & Products that Customers Want
THE FUTURE OF SUPPLY CHAIN IS NOW
Sustainable Manufacturing & New Materials Supply Chain Independence: How Brands Can Control the First Mile
TECHNOLOGY INNOVATION IMPERATIVE
Platform vs Point: Choosing the Right Solution For Your Organization Build, Partner, or Acquire: Options for Enhancing Your Tech Capability Following the Money to Understand the Future of Retail Tech
 PHYSICAL RETAIL TRANSFORMED
Retail Reborn: New Purpose Drives New Formats The Must-Have Store Technologies
BRANDS FOR A BETTER PLANET
 Strategies for Delivering on Climate Pledges Recommerce, Recycling, & Upcycling  
 NFTs, Digital Products, & All Things Metaverse Diversity, Equity, Inclusion: Meeting Gen Z's Evolving Expectations Why Everyone is Live Streaming
The Lead Innovation Summit is built for learning, interaction, connection, experience, and surprise. There are endless opportunities to connect (join a Roundtable Workshop), meet (attend a Hosted Lunch), discover (Vision Talks), and take in the local food scene (Blue Bottle, Sweetgreen, Milk Bar, and more). Immerse yourself in the future of the industry in The Innovation Village, Seed Alley, & The Brands of Tomorrow, experience concept retail during Store Immersion, and exchange ideas in Creative Capitals. 
The Lead Innovation Summit is an event for all senses, all interests, all objectives, and all outcomes. Quite simply, this is a one-of-a-kind experience that is not to be missed.
THE LOCATION — BROOKLYN'S
CREATIVE CAPITAL: WILLIAMSBURG
Williamsburg, Brooklyn is home to all things innovation, creativity, and workforce in fashion, retail, and consumer. Here, the offices of Vice, Kith, and Amazon Music live next door to concept stores for Van's, Nike, and Everlane. Where today's and tomorrow's best chefs create next to world-renowned music venues, breweries, and everything in between.
25 Kent is the home of The Lead Innovation Summit, with activities taking place throughout the neighborhood as well (store visits, Brooklyn Bowl, The Williamsburg Hotel, & more.) Just 20 minutes to Manhattan and within 500 feet of the neighborhood's most sought-after hotels.
Come for the content and 360-degree views of Manhattan & Downtown Brooklyn, stay for Dream x Bowl, and leave with a leg up in your career.
25 Kent Ave, Brooklyn, NY 11249
SPONSORS, EXHIBITORS, & THOUGHT LEADERS
Sponsors are woven into the fabric of The Lead Innovation Summit — not simply showing up but instead truly adding value. We maintain a curated environment to promote the best experience for attendees. From seed stage to unicorn to global enterprise leader, there are limited opportunities to be part of this engagement-focused, thought-forward, value-creating event. Brand and retail leaders aim to discover solutions and sponsors aim to engage — we understand this dynamic.
To ensure the health and safety of all attendees, speakers, and staff, The Lead will maintain standards drawn from recommended industry health & safety protocols. Please check back regularly for updates.
Full vaccination, as defined by the CDC is required.
We will follow NYC's masking requirements at the time of the event.
Enhanced cleaning of the venue before, during, and after the event to ensure the highest level of cleanliness.
Hand sanitizer stations will be available throughout the event space.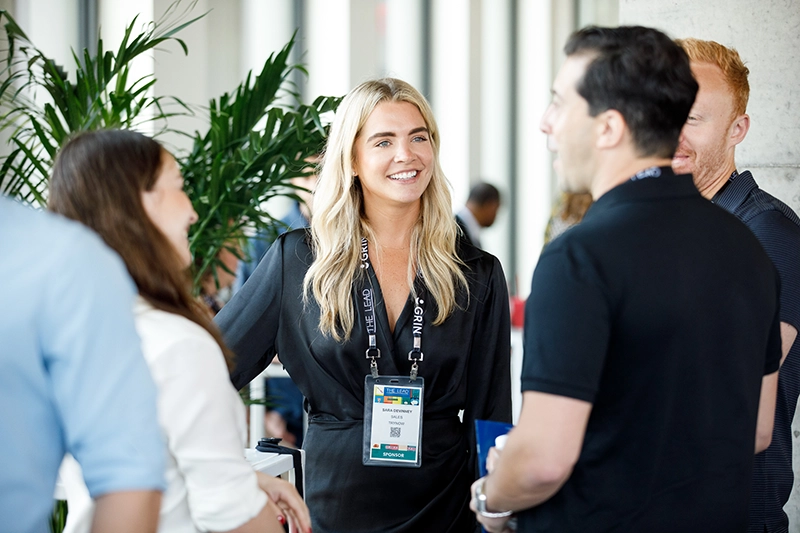 For help with registration or to learn more about discounted registration (limited to brand attendees, media & press, etc) fill out the contact us form here.
To inquire about sponsorships, please fill out our sponsor form here.
All other inquiries — please email contact@the-lead.co and someone from our team will get back to you soon.